Welcome to CALHOUN COMMUNITY HIGH SCHOOL! 
Congratulations to the Top Ten of 2020-2021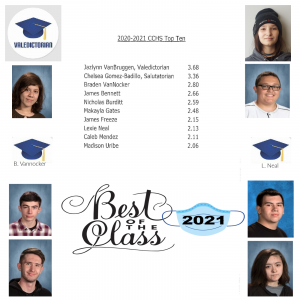 REGULAR UPDATES ARE POSTED HERE AND ON OUR FB PAGE,  https://www.facebook.com/CalhounCommunityHighSchool
 PLEASE CHECK THESE RESOURCES OFTEN
Cick here for information regarding turning in loaner technology Technology Turn-In
GRADUATION INFORMATION: Last day for Graduating students is May 25th, students need to have all classes complete on Edgenuity by this day to walk in the Graduation ceremony; Graduation day is Thursday June 3rd, mandatory luncheon is at 11:30 with rehearsal to follow, ceremony is at 7:00 p.m. here at CCHS on the front lawn (graduates need to be here at school by 6:30); students planning on attending ANY post-secondary education (including KCC) need to complete the FAFSA as soon as possible by using www.fafsa.gov
Open Board Seats for CCHS, click the link for more info calhounhs.org/news/
Please click here for information regarding Michigan Secure, a mobile device security application that warns users when suspicious activity is detected on their mobile device.  Michigan Secure
Visit the Students Page on our website for information about an exciting new opportunity to earn a tuition-free associate degree or skills certificate, or click the link to get started.  https://www.michigan.gov/reconnect/?utm_medium=email&utm_source=govdelivery
---
Anyone interested in enrolling for 2021-2022, we will begin accepting enrollment packets on Monday July 12th.   We require an original birth certificate with enrollment for new students.  If you have any questions or would like to pick up an enrollment packet please call the office at (269) 565-2460 Monday-Friday, from 8:00-3:30.  
---
Have you lost credit in your current high school? Are you more successful in small learning environment with lots of support and one-on-one attention? If so, maybe you should checkout Calhoun Community High School. We run a safe and orderly school, offering the Michigan Merit Curriculum to non-traditional students who want to earn their diplomas and move on to college or work.
Why Choose CCHS
• Small class sizes
• Online classes available
• Dual enrollment at KCC, Tech Center, Cosmo Classes available
• 15 years of proven success with over 1,000 graduates
• Individualized learning catering to the needs of the student
• Fewer credits required for graduation
Call (269) 565-2460 to pick up an enrollment packet!